Название: Spa & Bath Sets to Knit


Автор: Rhonda White, Leisure Arts 4494
Формат: jpg Язык: eng Размер: 11Mb Описание: Each of these 5 sets by Rhonda White has an adult-size bath mitt, drawstring soap sack, and facecloth. All are knit in soft cotton worsted weight yarn using knitting needles sizes 5 and 7. There also is a headband that coordinates with any of the sets. The 5 sets are called Refresh (featuring a lacy diamond border), Paradise (diamond lace pattern), Rejuvenate (forget-me-not floral pattern), Sunrays (eyelet mock cable pattern), and Tranquility (with an eyelet lattice border).
Скачать(Depositfiles)
Скачать(Hotfiles)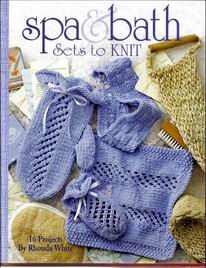 @темы: knit, Вязание иностранные